My fathers WWII Service (George Arthur Rae)
This page is still under construction. (updated 20th June 2020)
The sections are mainly ordered by document type and by date order in each section
Most have a reverse date in the title i.e. YYYYMMDD

Thanks to the following:
Art Rae for general family info/content & helping to obtain Rae Bay photo.
Mable Simpson for keeping so much memorability relating to my father.
Twila & Wayne Laxdel for getting & sending me the majority of the document on this page.
Ron Eels(Sqiggles), E.E. Quick(Speedy) - Air Gunners who flew with my father.
Tom Gatfield, Mr Leslie Hay(Uncle Will) - 49 Sqn Association members.
Joel Legout for info & photos relating to the crash site & the crews funeral.

Below are links to Sections 00-14
00 (Dad to Mum)
01 (Air_Letter)
02 (Airgraph Letter)
03 (Dad_Airmail Letter)
04 (Mum_Airmail Letter)
05 (Letter)
06 (Mable_Letter)
07 (Offical_Document)
08 (Offical_Letter)
09 (Personal_Letter)
10 (Rae_Bay)
11 (Telegram)
12 (Training Note)
13 (Flying Log)
14 (AFP_booklet)

Click any thumb below to see larger image, then click anywhere to remove.
Letter from Dad to Mum
The Only Surviving Letter from my Dad to My Mum(01/06/1944)
My mother kept all of my fathers letters but sometime after his death my Gran decided to destroy them.
She thought my mother should stop thinking about him and get on with her life.  It made thing worse for my mother.
It was sometime later when she got a coat back from the cleaners that this letter was found in a pocket.
She never let her mother know about it. 
Back to Top
Air_Letter
Airmail letters from Dad to family in Canada(15/04/1943-14/06/1944)
Back to Top
Airgraph Letter
Airmail letters from Dad 09/05/1943-14/02/1944)
Back to Top
Dad_Airmail Letter
(Airmail letters from Dad to family in Canada(23/08/1943-09/06/1944)
Back to Top
Mum_Airmail Letter
Airmail letters from Mum to family in Canada(22/07/1944--26/12/1947)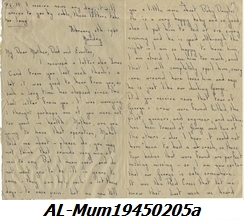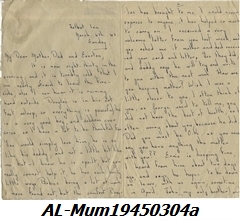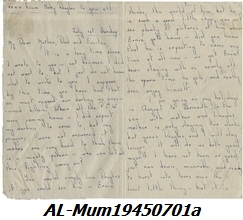 Back to Top
Letter
Airmail letters from Dad(18/03/1943-06/06/1944)
And from Mum(05/09/1945) to family in Canada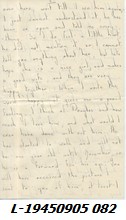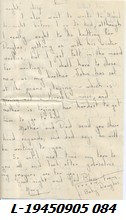 Back to Top
Mable_Letter
Letter from Dad to Mable(14/06/1943
Back to Top
Offical Document
Back to Top
Offical Letter
Back to Top
Personal Letter
Back to Top
Rae Bay
Back to Top
Telegram
Back to Top
Training Note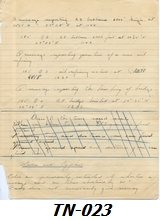 Back to Top
Flying Log
Back to Top
AFP_booklet
Notes for the general information and guidance of the next-of-kin or other relatives of airman reported missing, deceased, prisoners of war or interned
Back to Top