FAMILY TREE PHOTOGRAPHS
Click any thumb below to see larger image, then click anywhere to remove.
Images of My Father : George Arthur Rae  (Pilot Officer in RCAF)
Note: Rae Bay in Saskatchewan is named after my father. Location 
1: Trainee Aircrew in Canada, my father far right. 2: My Fathers WWII medals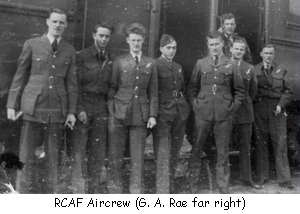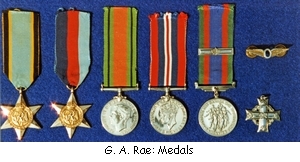 1. Remains of Lancaster LM541(EA-N) of 49 Squadron based @ Fiskerton
1: & 2:	 Crash site of Lancaster LM541(EA-N)
3:	 Funeral of the aircrew @ le Chesne Cemetary , France.
Graves @ le Chesne Cemetary
1:	Ernie Rae(my father's brother)  by original grave of G.A.Rae(my father).
2:	Present Headstone  
3:	Graves of the 7 crew of the Lancaster
	Flt Sgt GJW Parkinson Air Gunner Age 20 DFM
	Sgt E Wardman Fight Engineer Age 21
	P/O J Kernahan Wireless Operator/Air Gunner Age 21
	Flt Lt GE Ball Pilot Age 24 DFC
	Sgt JA Kirwan Air Gunner Age 25 DFM
	P/O G Miller Navigator Age 22
	P/O GA Rae Air Bomber Age 23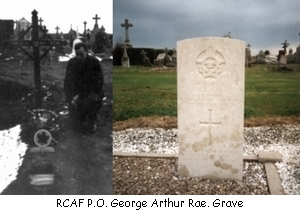 UK Family Photographs
1:	Dog and Gun Inn @ Peatling Parva, Leicestershire
	Left to Right: Arthur Joseph Young(Licensee & my Great Grandad)
	Donald Burley Peet(my Grandad) & his dog Jack. He became the Licensee of The Talbot Inn. 
	Maud Maria Young nee Barnett(my Great Grandmother)
	Laura Mary Rose Young(my Grandmother) married Donald Peet
	Maud Milicent Young(Great Auntie) 
	The Motorcyle belonged to Donald Peet and is thought to be a 350 Side Valve Matchless, possibly a 1924
2:	The Talbot Inn, Gilmorton - c1920's.  Middle Donald Peet(Publican) holding daughter Mary (My Grandad & Mother] 
3:	The Talbot Inn, Gilmorton - c1950's.  Where I lived until the age of 21.  
	My Mother 'Mary Rae' nee 'Peet' & Me.  Behind is Mick Reed & Ann Taylor